Do y'all do the "boo" thing at your school? We do, and I am on the social committee which means I am one of the people that get to start it off each year! So imagine my delight when I saw I had been bloggy boo-ed!
Christi over at
Ms. Flutz's Corne
r boo-ed me last night and I am so excited that I get to pick out a special treat from her store... she has awesome products, I think I am going to pick her
three digit subtraction borrowing game
... I know the kids will love to make such a difficult concept more fun!
Here are the blog rules to this little game
.
Boo one blog that has more followers, one blog with less followers and one blog with about the same number of followers and send them a little treat from our store!
With so many blogs to choose from, this was tough. I decided to choose Ashleigh from Ashleigh's Education Journey. I seriously love every.single.thing in her store. I may just break down and buy it all before too long!

Next up is Gina from Beach, Sand and Lesson Plans. Don't you just love the name of her blog? She is a fellow 3rd grade teacher and a brand new blogger. I have enjoyed her posts so far and it looks like she's got some good stuff in her TpT store. Go over and give her some bloggy love if you can!
Lastly, I wanted to boo Stephanie from 3rd Grade Thoughts. Okay, so I didn't follow the rule, maybe one day I'll have as many followers as her, but I love reading her blog and thought she deserved a treat! She has fabulous information about Whole Brain Teaching and I am always inspired after reading her blog.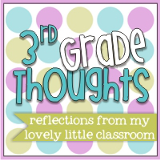 Here is a little "treat' for those of you working on place value right now! I made this little Halloween themed comparing numbers game. Click the picture below to grab it from Google Drive!
Look Who's Been Boo'd