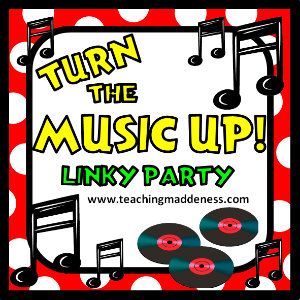 Hi friends, I am late to the party but I couldn't help myself. You see, I LOVE music. No, seriously, I am a musicaholic! I love almost every type of music there is. In my classroom, I love to use music. I have been know to write a song or two to teach math concepts with my third graders! So, when I saw Mrs. Nelson's You Tube linky party, and then Teaching Maddeness' turn the music up party, I knew I had to join! There were so many videos/songs that I liked, I had to put them together in Glogster. Have you used this site? Yesterday was my first time to really spend any time playing on it. I am the technology trainer for my campus and I learned about this site last year but never had time to think about it (think STAAR test). So, admittedly, these are not the most visually appealing but I think they will serve their purpose! In our district, You Tube is blocked. Embedding the videos into Glogster is a perfect solution. I can pull up the videos I need without having to mess with the firewall and I don't have to worry about inappropriate videos/ads popping up!! Here, they are. I hope at least one of these is new to you!
Some alphabet songs. My three-year old wanted me to play them over and over and over again yesterday!
Here are some of my favorite "teacher tip videos" Love the pencil grip trick! Have you seen all the Teacher Tipster videos? So funny!
This one includes a link to a shape game on ABCya.
Feel free to leave me a comment if your favorite You Tube teaching video was missing. I would love to have a complete collection of the best!